Kampot terroir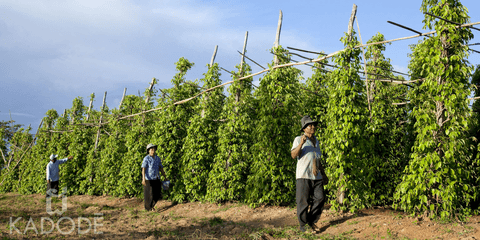 Kampot pepper's flavour and intense aroma have made it one of the most highly regarded peppers in the world - the unchallenged champion of spices in the kitchens of the most renowned French chefs, and widely referred to as 'The King of Pepper' !
FARMLINK is proud to be a part of this rich heritage and the bright future of Kampot pepper.
Kampot Pepper was the first Cambodian product to be granted with Protected Geographical Indication (PGI) status. This label, certified by ECOCERT, guarantees a required standard of farming methods and techniques amongst the members of the PGI. Respecting the official 'Book of Requirements' is essential to obtaining certified Kampot Pepper. The PGI regarding Kampot Pepper ensures consumers are not purchasing counterfeit sub-standard goods.
The pepper plant grows on traditional wooden poles, which are carefully separated by a defined distance to ensure all plants have sufficient nutriment. All Kampot Pepper cuttings for a new plantation must originate from Kampot's terroir. Natural fertiliser and new soil has to be added each year to each pepper plant pole.
A perfect location.
Situated between the mountains and the sea, the special climate and soil type found in Kampot province, combined with the experience of multiple generations of farming expertise, make this pepper unique. Its distinct aroma – strong yet delicate, aromatic and unmistakable – makes Kampot Pepper highly prized by gourmets worldwide.