Highest quality finished pepper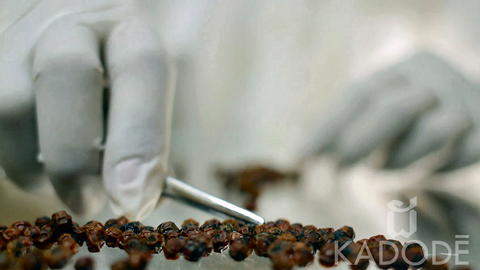 FARMLINK is that vital link in the supply chain. We are a meticulous processor of the raw product from farm to export, establishing and continuing to ensure the highest standards in the cleaning, grading, sorting and packaging of our pepper.
After an initial sun drying process in the farms, our Kampot pepper is then carefully washed again in our premises and sun-dried under controlled conditions for 2-3 days. All our KADODÉ Kampot pepper is hand sorted, corn-by-corn, leaving only the best corns in the final bag, always vacuum packed to preserve the delicate but powerful aromas. These exacting pepper processing systems guarantee that our products fulfil top international food safety requirements.
KADODÉ brand is our promise that the pepper you buy from us is authentic Kampot pepper, cultivated by our selected farmers in Kampot province and processed to our exacting standards and controls in order to reach you in the freshest condition.
Get Kampot pepper
Visit our distribution website to find out where to buy or how to become a distributor.